Rory McInroy Professional Jazz Piano and Piano Tuition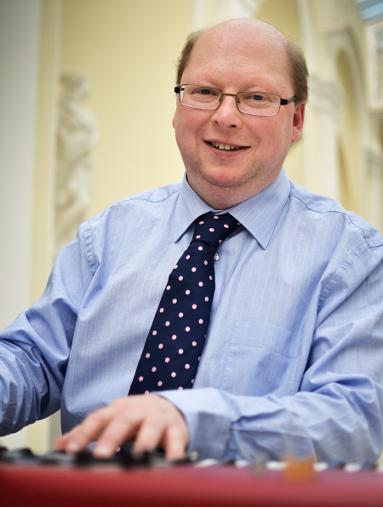 Online lessons with an experienced professional jazz pianist!
Have you ever wanted to learn to play jazz, rock or pop music on the piano? Do you want to free yourself from the dots and learn how to work from chords, play tunes by ear, make up tunes and improvise?
Lessons can be in person or online via Facetime or Skype, if you don't live near the West Oxfordshire area. Contact me for more details via this website or DM me on my Facebook page.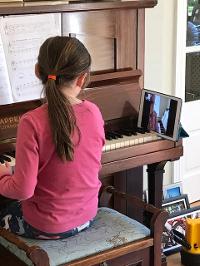 Here's picture kindly sent in by a mum of me teaching a pupil online - notice the extra attention the teacher gets by being on a screen!
Excellent Professional Jazz Pianist with 30 years performing and 20 years teaching experience
Solo piano for functions covering a range of styles - from jazz to rock, pop and showtunes - creating a sophisticated ambience for your event.
Jazz bands for functions - only top professional musicians used. You can hear samples of my playing on this site.
Private piano tuition, including teaching jazz improvisation, is offered at my home in Carterton, West Oxfordshire. Both classical and jazz ABRSM grades are taught. Reading music, playing by ear, composing and playing from chords are all encouraged - why not learn to play from an experienced professional performer? Here's a link to my page on musicteachers.co.uk
http://www.musicteachers.co.uk/user/8fc4c5f833cda4e34fe7
and a link to my yell.com advert, which includes some testimonials about my teaching:
http://www.yell.com/biz/rory-mcinroy-piano-teacher-carterton-7538521/
I am based in the Oxfordshire area, but will travel up to two hours for professional engagements.

Upcoming Gigs
Sunday 2 October Playing with my regular group, the Rory McInroy/Otto Carretta quartet, at Fat Lils in Witney. This is the inaugural gig for what will be a new monthly lunchtime jazz gig there, the first Sunday of every month. Lils is a well-established live music venue, so I'm sure there will be a great atmosphere!
Otto is a very fine saxophonist, and we're ably supported by the dream rhythm section of Steve Kershaw on bass and Stephen Law on drums. Music from 1-3.30pm. There will be a small entrance fee of £3.00 per head.
Fat Lils are planning to put on Jazz from 1-3pm on the first Sunday of each month.
Monday 3 October Playing at the Swan Inn in Eynsham with the Alvin Roy quartet, which also features the two Steves (Kershaw and Law) in the rhythm section. Alvin is a local legend, and a triple threat as a clarinettist, harmonica player and raconteur... entertainment guaranteed! Music from 8pm.
Monday 10 October Playing at The Wine Bar, in the basement of No.12 High Street, Highworth, with the great singer Claire Jones again. This time we're joined by the wonderful Mike Wills on saxes and clarinet, as well as the continuing-to-be-ubiquitous Steve Kershaw on bass again. The Wine Bar does monthly Monday night jazz and has started drawing a regular enthusiastic crowd. Music from 8pm.
Friday 14 October Playing at the Hart Street Tavern in Henley on a real baby grand piano (what a treat!). I'll be joined by the great bass player Tom Mark for an evening of relaxed jazz standards. Music from 7-9pm
Sunday 16 October Playing with the wonderful Bob Cutting Big Band as one of a number of guest artists for a special event being held at Drayton Village Hall You can get tickets on the band's website: http://www.bobcuttingbigband.uk/
Music from 7.30pm
Sunday 6 November The monthly jazz slot at Fat Lils this month features local legend Alvin Roy on clarinet, harmonica and dodgy jokes, supported by the stalwart Steve Kershaw on double bass and the wonderful young drummer Noah Stone. Music from 1-3pm.
Testimonials
Thanks so much to you and your saxophonist for your performance last weekend, it was just what we were looking for!
Liam Ward (wedding client)
Dear Rory, I had a fabulous time last Saturday, and of course you and the other musicians were a big part of it. I have had so much feedback from guests and all of it complimentary. The music was perfect for the occasion and you just seemed to know my style. The big plus was the fact that the music didn't overpower the rest of the party, and people wanted to dance. I would have no hesitation in recommending you to others who want a special occasion.
Christine Summerell (70th birthday client)


Your trio were exceptional, and it was a pleasure dealing with you from the beginning. On the night the band was playing by the time we arrived, and the music was wonderful, creating exactly the mood we wanted- refined...but fun! We've had such good feedback from our guests. I am thrilled that you learned "House Party" by Fred Wesley for us- it was an absolute highlight!
Bianca and Ash Potterton (wedding clients)
Rory played at my birthday party and did the most wonderful job. He not only played his own selection of jazz standards and songs from the shows, but also accompanied musician friends singing Jerome Kern and Robbie Williams. This leant a very special and personal quality to the evening. We've already booked him for our next village do!
Susie Vaughan (private function client)
Just a note of appreciation for your wonderful playing at my birthday ' bash' . Everyone thoroughly enjoyed it and it was a lovely birthday present to myself. I'm trying to think of a good reason to ask you back - or any reason at all! Thank you
Pat Johnson (private function client)
I just wanted to feedback to you on The Rory McInroy Jazz Trio last Saturday. They were exceptional in EVERY way! We couldn't have been more happy. They performed with real aplomb, musicality, a sense of humour and fitted right into the event. They were absolutely charming as well, and we loved their performances. We would recommend them to anyone.
Kingsley Wheaton (wedding client)
Please pass on my heartfelt thanks to The Rory McInroy Trio, they performed marvellously and were just what I wanted. They fitted right into the program for the event and I would like to thank them for their flexibility.
Derek Flatt (private function client)